Mission

: AAUW advances equity for women and girls through advocacy, education, philanthropy and research.
The AAUW Midland (MI) Branch, Inc. was established in 1934.  It is comprised of approximately 100 members from Midland and the surrounding area who come together to work on philanthropic projects as well as on topics of mutual interest. The branch holds General Meetings that are open to the public.
The AAUW Midland Branch, Inc. is on Facebook!  ____________________________________________________________________
Make Friends and Make a Difference with AAUW!
Consider joining the Midland Branch of AAUW!   If you join at a public event (such as one of our general meetings or at our Used Book Sale) you will receive 50 percent off our national dues.  Enjoy this nice incentive as you become part of an organization that supports women and provides many opportunities for personal growth and camaraderie.
---
Upcoming Branch Events and Programs 
(Click on the links below or on the corresponding date on the calendar on the right for details. If you would like further information about any of our programs, please write to aauwmidland@gmail.com
---
Past Events and Programs
The 2018 Spring Used Book Sale Was a Great Success!
Thank You from the AAUW Midland Branch to all those who helped make our 2018 Spring Used Book Sale a great success! Your generous support allows our Branch to fund educational projects in the community and to offer scholarships for women at the local and national level. Unsold books were donated to various area nursing homes and nonprofit organizations. We are very grateful to the community for its support over the years!
The AAUW Midland Branch, Inc. Fall Used Book Sale will be September 28, 29, 30, 2018 at the Midland Mall. Check back in mid to late August for the locations of the donation barrels.
Equal Pay for Equal Work Rally in Lansing (April 10, 2018) – Click to see ABC 12 coverage and interviews.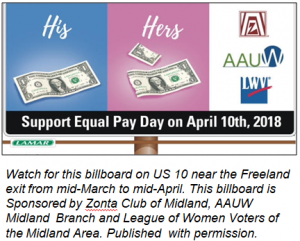 Midland Branch Annual Meeting – March 15, 2018. Doors open at 6:00 p.m., dinner at 6:30 p.m.; Trinity Lutheran Church, 3710 Jefferson Ave., Midland, MI.
Am I My Best Advocate? & Valentine Treats – February 15, 2018 from 1:30 pm to 3:30 pm. Greater Midland Community Center, Senior Room, 2205 Jefferson Avenue, Midland.
Coffee and More – January 18, 2018 from 10 a.m. to noon. Creative 360, Midland, MI
'Tis the Season Branch Program – December 7, 2017 from 1 p.m. to 3 p.m.  Chippewa Nature Center.
Tour of Central Elementary School – November 6, 2017, 7 p.m.

Fall Used Book Sale – September 29, 30 and October 1, 2017 at the Midland Mall (in the center court, between Younkers and Ruby Tuesday)

Update on the Environment (Protecting the Great Lakes) – September 19, 2017, 7 p.m. at the Chippewa Nature Center (Sponsored by the League of Women Voters of the Midland Area)

Annual Fall Open House – September 21, 2017, 7:00 p.m. at Trinity Lutheran Church

.


---
AAUW National Highlights 
2018 AAUW National Bylaws Amendment Vote.
The AAUW National Board of Director has voted to put three proposals for bylaws amendments before the membership for a vote this spring. In the voter guide you'll read about proposed bylaws amendments that the AAUW Board of Directors strongly supports. We believe that passing these measures will help keep AAUW vital as an organization and enable us to increase our impact in advancing equity for all women and girls.
AAUW members can now vote on amendments to the AAUW Bylaws through June 9.
Read More
Voter's Guide
Bylaws Vote FAQ
Bylaws Amendment Vote Message from AAUW Board Chair Julia Brown and CEO Kimberly Churches
The AAUW National Board of Directors has voted to put three proposals for bylaws amendments before the membership for a vote this spring. AAUW Board Chair, Julia Brown, J.D., and Chief Executive Officer Kimberly Churches discuss their support of these proposals.

State of the States: A Globally Competitive Workforce Starts with an Equitable Workplace
Every year, at the start of their respective legislative sessions, governors across the country
deliver their assessments of the condition of their states. They offer esteem for outstanding achievements among their citizens or groundbreaking triumphs within their legislature, each one assuring that their state is progressing in a positive direction. In addition to recounting the successes of the previous year, the addresses offer an opportunity for governors to speak on any legislative concerns and present a strategic plan to support statewide improvements in these policy areas. Read More
Find Your Title IX Coordinators with AAUW's Interactive Tool.
All K–12 schools and postsecondary institutions that receive federal funds must designate at least one employee to coordinate their efforts to comply with and carry out their responsibilities under Title IX. These Title IX coordinators ensure that all people affected by sex discrimination in schools — students, parents, and employees — are aware of their legal rights. Click to access AAUW's Title IX Coordinator Interactive Tool.
Know Your Rights: Workplace Sexual Harassment
Sexual harassment is a form of sex discrimination that violates Title VII of the Civil Rights Act of 1964. Title VII is a federal law that prohibits discrimination in employment on the basis of sex, race, color, national origin, and religion, and it applies to employers with 15 or more employees, including federal, state, and local governments. Even with Title VII's protections, many people across the country still face sexual harassment in their workplaces. Read more
Know Your Rights: Sexual Harassment and Sexual Assault under Title IX.  

Title IX of the Education Amendments of 1972 is a comprehensive federal law that prohibits sex discrimination in education. It covers women and men, girls and boys, and staff and students in any educational institution or program that receives federal funds. Local school districts, colleges and universities, for-profit schools, career and technical education agencies, libraries, and museums are all covered under Title IX. Read more.

States Notch Multiple Equal Pay Victories in 2017  Voters are fed up with the persistent gender pay gap, and many state legislators are listening. In 2015 and 2016 dozens of legislatures proposed and enacted bills and laws addressing pay inequality. In 2017 a whopping 42 states, plus Puerto Rico and Washington, D.C., offered legislative solutions to the gender pay gap. While not all of these bills passed, this growing activity shows that red, blue, and purple states realize that the pay gap is real and that something needs to be done about it. Read More. 
You're Going to Be Hearing about These Fearless Campus Leaders.  Every year AAUW selects 10 college student leaders committed to gender equity to serve on the national Student Advisory Council (SAC). This year's SAC members are LGBT rights leaders, engineers, student government presidents, first-generation college students, and more.
These students advise AAUW on the needs of college students, take on campus activism projects and community outreach to AAUW student organizations, and gain valuable résumé-building experience. Participants also serve as peer mentors for other aspiring student leaders during AAUW's annual National Conference for College Women Student Leaders (NCCWSL).
Who are these remarkable feminist student leaders? This year's SAC members are LGBT rights leaders, engineers, student government presidents, first-generation college students, and more. Read More
Full Equity in Higher Education Remains Elusive.  Women's Equality Day, celebrated on August 26, marks the anniversary of the passage of the Nineteenth Amendment, which granted women the right to vote. One battle we are still waging is for women in education. AAUW estimates that due to disproportionate student loan burden and a longer debt repayment period, women currently hold almost two-thirds of student debt in the United States. Read more.
Deeper in Debt. Student loan debt is now a $1.3-trillion problem burdening 44 million borrowers. Experts are talking about the effects of student debt on the economy, but they aren't talking about its disproportionate effects on women. Read more.
The Gender Pay Gap by State
Every U.S. state has a gender pay gap, and some are wider than others. See how your state's gender pay gap stacks up. Share this information with state and federal legislators as a call to action for stronger laws and use it to educate folks in your community about the gender pay gap.  Click here for the Interactive Map.
It's Negotiable: Salary Skill Builder
The gender pay gap is real and has far-reaching consequences for women's economic security. Get the pay you deserve. AAUW's new online, interactive will help you articulate your value in your next negotiation.
AAUW Work Smart Salary Negotiation Trainings Now Available Across the U.S.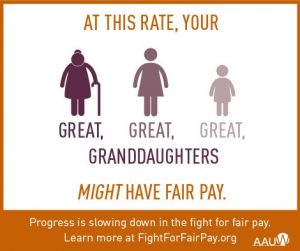 The AAUW Work Smart salary negotiation program that helps women hammer away at the gender wage gap will have greater reach this Equal Pay Day, due in large part to frustration with the status quo. Left on its own, the gender wage gap won't close for another 135 years, which is unacceptable and explains why numerous cities are collaborating with AAUW.
AAUW Work Smart has expanded beyond Boston, where it first launched just two years ago, to Washington, D.C.; Tempe, Arizona; and Long Beach, California. Read more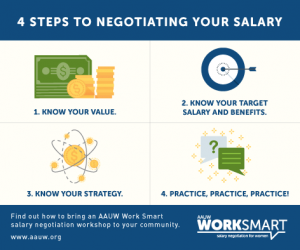 4 Tips to Negotiating for the Salary and Benefits You're Worth. At AAUW we're moving the needle on the gender pay gap through our innovative research, powerful advocacy, and salary negotiation programs for women across the country. You can sign up for a workshop near you, but in the meantime here are four tips for you. Ready to get paid what you're worth? Follow these four steps to successfully negotiate your salary and benefits package. Read more.
Three Musts for Intersectional Feminism.  Intersectional feminism is to acknowledge multiple overlapping social identities and related systems of oppression. So, while we may want to work under the umbrella term " women" there is not one global women's experience. Here are three ways to make sure that your feminism is intersectional. Read more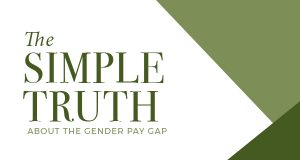 The Simple Truth about the Gender Pay Gap (Spring 2017)   You've probably heard that men are paid more than women are paid over their lifetimes. But what does that mean? Are women paid less because they choose lower-paying jobs? AAUW's The Simple Truth about the Gender Pay Gap succinctly addresses these issues by going beyond the widely reported 80 percent statistic. Read more.

Get The Simple Truth in Spanish! Now available en español, use this resource to educate decision makers and your community about the gender pay gap. Read more.
AAUW Member Benefits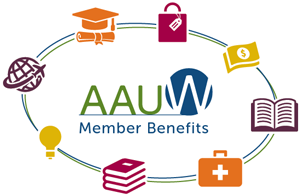 Membership with AAUW means you're part of a community dedicated to changing the climate for women and girls. As an AAUW member, you will not only have access to valuable resources but also get discounted pricing on some merchandise and services. It's one more way to express our gratitude for all your support to empower women and improve the lives of millions of women and families. With each purchase, AAUW receives a royalty that is used to support the work we do. Read more.
---
AAUW National – 2018 Calendar
April 10:                             Equal Pay Day
May 7:                                2018 AAUW National Bylaws Amendment Vote – Paper ballot request period ends.
May 21, 11:59 p.m. ET:    2018 AAUW National Bylaws Amendment Vote – Paper ballots must be postmarked by this date to be counted.
May 30 – June 2:               National Conference for College Women Student Leaders (NCCWSL) – University of Maryland (College Park).
June 9, 9 p.m. ET:              2018 AAUW National Bylaws Amendment Vote – Online voting ends