Mission

: AAUW advances equity for women and girls through advocacy, education, philanthropy and research.
The AAUW Midland (MI) Branch, Inc. was established in 1934.  It is comprised of approximately 100 members from Midland and the surrounding area who come together to work on philanthropic projects as well as on topics of mutual interest. The branch holds General Meetings that are open to the public.
The AAUW Midland Branch, Inc. is on Facebook!  ____________________________________________________________________
Make Friends and Make a Difference with AAUW!
Consider joining the Midland Branch of AAUW!   If you join at a public event (such as one of our general meetings or at our Used Book Sale) you will receive 50 percent off our national dues.  Enjoy this nice incentive as you become part of an organization that supports women and provides many opportunities for personal growth and camaraderie.
AAUW Applauds Paycheck Fairness Act Introduction in Congress
The Paycheck Fairness Act is sponsored by Rep. Rosa DeLauro (D-CT) and Sen. Patty Murray (D-WA). The bill is bipartisan in the House of Representatives and co-sponsored by every Democrat in both the House and Senate. (A version of the bill was first introduced in 1997.) The Paycheck Fairness Act is also an important complement to the Lilly Ledbetter Fair Pay Act of 2009, which ensures that ongoing pay discrimination at work can be challenged regardless of when the discrimination began. That act was signed into law 10 years ago on January 29, 2009.
Fact Sheet: The Paycheck Fairness Act of 2019

"The Paycheck Fairness Act is essential to eradicating practices that have perpetuated the pay gap for far too long. In 2019, the idea that we still don't have equal pay for equal work is nothing short of outrageous.
AAUW urges the 116th Congress
 to take this important step towards pay equity with the swift passage of the bill."
— Kim Churches, CEO, American Association of University Women
 A Q&A with Lilly Ledbetter, Fierce Champion of Equal Pay
As one of the first women hired as a manager at the Goodyear Tire and Rubber Company in 1979, Lilly Ledbetter showed leadership potential from the start. When she found out after many years on the job that she was earning substantially less than her male colleagues, she challenged her employer in federal court.
Victory For Equal Pay
Closing the gender wage gap will take work on many fronts, but one key tool is having more information about salaries. Removing the shroud of secrecy about who earns what is a critical step towards ensuring equal pay for equal work.
Simple Truth
The gender pay gap is the gap between what men and women are paid. Most commonly, it refers to the median annual pay of all women who work full time and year-round, compared to the pay of a similar cohort of men. Other estimates of the gender pay gap are based on weekly or hourly earnings, or are specific to a particular group of women.
 U.S. Cities Reveal a Wide Range of Gender and Racial Pay Gaps
The gender pay gap is a real and consistent problem, which is all too apparent when we examine the data on the earnings of men and women. No matter how you break down the numbers—by state, by age, by education, or by occupation—the gap is substantial. And cities are not immune to this problem, as our new analysis shows.
AAUW has analyzed the pay gap faced by women of different races and ethnicities in 25 of the largest U.S. metropolitan areas. The analysis revealed that there is a substantial gender pay gap in all 25 cities, with even larger gaps for black and Hispanic women.
---

NCCWSL SUPPORT:
The Midland Branch of AAUW (American Association of University Women) is announcing its support to send two young women from this area to the National Conference for College Women Student Leaders (NCCWSL). The conference will take place May 29 – June 1, 2019, on the University of Maryland campus. This is the tenth year of our branch's support for this opportunity for young women leaders and potential leaders to stretch themselves by meeting with others from ac
ross the country and hearing women who can inspire them to reach their goals.
Applications must be postmarked by or received electronically by January 29, 2019.
In an effort to stretch our funding to cover two winners, we will be asking those selected to apply for an AAUW National Scholarship which will cover conference registration and lodging, optional additional night(s) and an optional activity. Our support will supplement the national scholarship to cover transportation, and non-conference meals. The maximum award will be $1,500 (the national scholarship + the Midland Branch supplement) per student.
.
Nearly 1,000 young women attended this conference last year. More information is available at aauw.org. Anyone who is seriously interested in attending should also be sure to read the FAQs.
As College/University Partners with AAUW, we hope you will help bring this opportunity to the attention of your female student leaders and potential leaders. As an aside, there are universities that help underwrite the attendance of students.
The young leaders who have attended NCCWSL come home bubbling with enthusiasm and excitement. We would like to help bring that enthusiasm to your campus.
Link to Application
https://midland-mi.aauw.net/files/2018/11/Ltr-to-Colleges-Application-2019-Final-2-3.pdf
**************************************************************
Get Paid What You're Worth
AAUW's renowned The Simple Truth about the Gender Pay Gap report finds women are still paid just 80 cents for every dollar paid to a man! We can change that with AAUW's multipronged economy security initiative: by changing laws, encouraging employers to improve workplace cultures and practices, and empowering women to negotiate to their financial futures by making our Work Smart program.
Learn more about Work Smart Online and join the Members Mobilize a Million Challenge.
Schools Are Still Underreporting Sexual Harassment and Assault
AAUW research has found that women on college campuses andgirls in junior high and high school frequently experience sexual harassment, sexual abuse or assault, and other crimes or behavior that constitute sex discrimination under Title IX. These experiences hurt their ability to focus on their academic goals and can diminish their equal access to educational opportunities. But educational institutions frequently fail to accurately report the sexual harassment or assault that is occurring on their watch.
Image Link: https://www.aauw.org/files/2018/11/Closeup-of-Red-Stop-Sign-Pixabay-256409-Pexels.jpg 

Upcoming Branch Events and Programs 
(Click on the links below or on the corresponding date on the calendar on the right for details. If you would like further information about any of our programs, please write to aauwmidland@gmail.com
********************************************************************************
 AAUW-Midland Branch General meeting 
****
Advance Care PlanningA health crisis can hit any of us, anytime, at any age. If you had a medical emergency today, who would speak for you? Would they know what to say? Our speaker this month will be Ashley Johnson, BBA, RDMS, RVT. She is the Advance Care Planning Manager for MidMichigan Health.
Join us because:
 You are healthy, but would like to plan for your care
 You have health issues
 You care about your loved ones
 You want control over what happens to you
 You have already created legal documents, but would like to learn ways to talk with your loved ones about your choices
Annual Meeting 
Thursday, March 21: 10am – 1pm, Library Community Room
The World Famous AAUW Midland Book Sale: April 26-28
Find great bargains at the AAUW Midland Branch Spring Used Book Sale in April, 2019 at the Midland Mall! (in the center court, between Younkers and Ruby Tuesday).The Used Book Sale hours are 9:00 a.m. to 9:00 p.m. on Friday and Saturday. Sunday hours are 10:00 a.m. to 4:00 p.m. Sunday is "bag day"!Books are sorted into many categories including suspense, romance, westerns, fiction, nonfiction, cookbooks, collectibles and children's books.
• Most hardcover books are priced at $2
• Most paperbacks are $1 to $2
• Others are priced as markedDonate your books! Sale proceeds from your generous book donations help to fund our Scholarships! Collection barrels are located at Family Fare, Kroger, Sanford Food Center and at the Midland Mall (at the two main entrances: Food Court entrance and the entrance next to Ruby Tuesday). Donation barrels will be out in April, 2019. Please, no encyclopedias or magazines.
Past Events and Programs
November Branch Program – With Special Guest, Mary Pollock, AAUW of MichiganThursday, November 8, 2018, Trinity Lutheran Church –  Mary handles AAUW of MI priority legislative issues at the Capitol including education that promotes gender fairness, equity and diversity, economic self-sufficiency for all women as well as equality, individual rights and social justice for a diverse society.

The AAUW Midland Branch and the League of Women Voters of the Midland Area jointly held a candidate forum for a seat on the Midland Public School Board on Tuesday, September 25, 2018 at 7:00 p.m. 

Candidates Forum Co-sponsored by Midland Area LWV and MCTV –

Monday, October 2018 – 

36th District Michigan State Senate – 

Districts 3 and 5 County Commissioners –

M

idland City Hall Council Chambers, 333 W. Ellsworth

98th District Michigan State House Candidates Forum –

Tuesday, October 16, 2018 –

MCTV Studio, Grace A. Dow Library – 

Co-sponsored by Midland Area LWV and MCTV
AAUW Candidate Forum – Women's Issues – Thursday, July 26, 2018, 7 p.m. – 9 p.m., Grace A Dow Memorial Library Auditorium, 1710 W. St. Andrews, Midland.
Equal Pay for Equal Work Rally in Lansing (April 10, 2018) – Click to see ABC 12 coverage and interviews.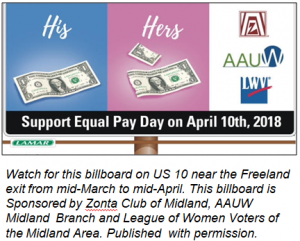 AAUW National Highlights 
Congratulations to AAUW's 2018-19 Fellowship and Grants Awardees
The 2018–19 award year kicked off with the release of our updated online Fellowships and Grants directory in which you can find out more about the remarkable women and organizations from your area! To learn more about AAUW's fellowships and grants programs and past awardees, visit our fellowships and grants web page and read our Following the Fellows blog series. Read More.
Supreme Court Review Call
Join us on July 26 we review several of the significant decisions reached by the Supreme Court of the United States during the October 2017 term. Ebonee Avery-Washington, LAF program manager, will host the conference call and Deborah J. Vagins, AAUW's senior vice president of public policy and research, will share her analysis of cases that impact our most fundamental rights. Register Today.
AAUW Issues: Federal Judicial Nominations
AAUW's Public Policy Priorities supports "a fair, balanced, and independent judiciary" to ensure constitutional protection for the civil rights of all individuals. Federal courts up to and including the Supreme Court are often also the last, best hope for women who have experienced discrimination in education, employment, health care, and other aspects of their lives. Get the Facts
9 Things We Learned about Leadership at NCCWSL.
At the 2018 National Conference for College Women Student Leaders, nearly 800 students from around the world gathered to build community and sharpen their leadership skills. Here are some of our favorite moments that had us clapping, snapping, and thinking hard about the future. Read More.
Women's Student Debt Crisis in the United States
This report reveals that women also take on larger student loans than do men. And because of the gender pay gap, they have less disposable income with which to repay their loans after graduation, requiring more time to pay back their student debt than do men. As a result, women hold nearly two-thirds of the outstanding student debt in the United States — almost $900 billion as of mid-2018.  Read More.
State of the States: A Globally Competitive Workforce Starts with an Equitable Workplace
Every year, at the start of their respective legislative sessions, governors across the country
deliver their assessments of the condition of their states. They offer esteem for outstanding achievements among their citizens or groundbreaking triumphs within their legislature, each one assuring that their state is progressing in a positive direction. In addition to recounting the successes of the previous year, the addresses offer an opportunity for governors to speak on any legislative concerns and present a strategic plan to support statewide improvements in these policy areas. Read More .
46 Years of Title IX: Fight for Equity in Education Rages On
Women and girls still do not have equal educational experiences or opportunities. In 1972, AAUW was at the forefront of advocating for the passage of Title IX, and we continue to fight to realize the full intent of the law, to ensure all students receive an education free from sex discrimination at every level of education across the land. In a year where there have been rollbacks to the enforcement of the law, we need to push even harder to ensure it is protected and vigorously carried out. Read More.
Find Your Title IX Coordinators with AAUW's Interactive Tool.
All K–12 schools and postsecondary institutions that receive federal funds must designate at least one employee to coordinate their efforts to comply with and carry out their responsibilities under Title IX. These Title IX coordinators ensure that all people affected by sex discrimination in schools — students, parents, and employees — are aware of their legal rights. Click to access AAUW's Title IX Coordinator Interactive Tool.
Know Your Rights: Workplace Sexual Harassment
Sexual harassment is a form of sex discrimination that violates Title VII of the Civil Rights Act of 1964. Title VII is a federal law that prohibits discrimination in employment on the basis of sex, race, color, national origin, and religion, and it applies to employers with 15 or more employees, including federal, state, and local governments. Even with Title VII's protections, many people across the country still face sexual harassment in their workplaces. Read more
Know Your Rights: Sexual Harassment and Sexual Assault under Title IX.  
Title IX of the Education Amendments of 1972 is a comprehensive federal law that prohibits sex discrimination in education. It covers women and men, girls and boys, and staff and students in any educational institution or program that receives federal funds. Local school districts, colleges and universities, for-profit schools, career and technical education agencies, libraries, and museums are all covered under Title IX. Read more.

The AAUW Work Smart salary negotiation program that helps women hammer away at the gender wage gap will have greater reach this Equal Pay Day, due in large part to frustration with the status quo. Left on its own, the gender wage gap won't close for another 135 years, which is unacceptable and explains why numerous cities are collaborating with AAUW.
AAUW Work Smart has expanded beyond Boston, where it first launched just two years ago, to Washington, D.C.; Tempe, Arizona; and Long Beach, California. Read more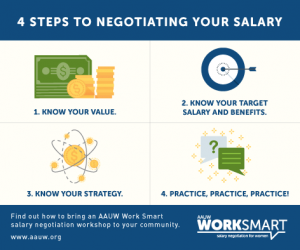 4 Tips to Negotiating for the Salary and Benefits You're Worth. At AAUW we're moving the needle on the gender pay gap through our innovative research, powerful advocacy, and salary negotiation programs for women across the country. You can sign up for a workshop near you, but in the meantime here are four tips for you. Ready to get paid what you're worth? Follow these four steps to successfully negotiate your salary and benefits package. Read more.