Mission

:  To advance gender equity for women and girls through research, education and advocacy.
The AAUW-Midland (MI) Branch, Inc. was established in 1934.  It is comprised of approximately 75 members from Midland and the surrounding area who come together to address issues that focus on leadership, equity for women and girls, education, and economic security. General Meetings that are open to the public.
The AAUW Midland Branch, Inc. is on Facebook!  ____________________________________________________________________
Make Friends and Make a Difference with AAUW!
Consider joining the Midland Branch of AAUW!   If you join at a public event (such as one of our general meetings or at our Used Book Sale) you will receive 50 percent off our national dues.  Enjoy this nice incentive as you become part of an organization that supports women and provides many opportunities for personal growth and camaraderie.
********************************************************************************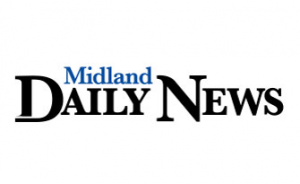 Celebrate the New Year with the Midland Branch
Coffee & More 2020 Style
January 16, 2020, 10:30 am GAD Library Community Room
You are invited to meet and greet Kate Hessling, the new editor of the Midland Daily News. Kate's guiding philosophy is that a newspaper's role in the community is to inform and to connect. This philosophy is shared by her team at the Daily News. She states that a community where small businesses thrive is one with a strong and vibrant future. The past decade has proven that communities with daily newspapers are stronger at attracting and retaining business. This in turn drives community development. She also states that the paper's content cannot merely recount the day's events. The Midland Daily News is the community's voice, and that voice should be used to inform and connect.
Branch members are encouraged to attend and bring a guest(s) to the meeting to hear about the direction the newspaper is going to take and to voice your opinion. Plan to visit over coffee and a variety of pastries. We are asking for a contribution of $5 to help defray the rental fee and other expenses. There is no charge for guests. 
******************************************************AAUW Scholarship of $1,500 is available to Attend NCCWSL 
National Conference for College Women Student Leaders May 27–May 30, 2020
Previous AAUW Midland Branch  NCCWSL Scholarship winners from the Great Lakes area are Sara Chase, Scout Parsch, & our 2019 Miss Michigan Mallory Rivard!
The American Association of University Women (AAUW)—Midland Branch is offering scholarship assistance for two college/university women to attend the 2020 National Conference of College Women Student Leaders (NCCWSL) to be held May 27—May 30, 2020 at the University of Maryland, campus at College Park, Maryland.
 Two $1,500. Scholarships will be offered.  Scholarship applicants should have a 3.0 GPA, either be attending a local college/university, or be from the area & attending college elsewhere. The Awards process includes an application with a short essay, a recommendation from a college/university official or faculty member, and a list of college & community activities nothing any leadership roles held. A brief oral report of the experience is expected to be presented at the AAUW—Midland Branch meeting in September.
The Conference will help students develop leadership & Networking Skills. It is presented by AAUW & NASPA's Center for Scholarship, Research, & Professional Development for Women. More than 1,000 women from around the United States attended last year. AAUW promotes equity, education, & development of opportunity for women & girls that enable them to realize their full potential.
Application Deadline is January 29, 2020
For a 2020 Application, please follow this link:  nccwsl app 2020

*************************************************************
AAUW Applauds Paycheck Fairness Act Introduction in Congress
The Paycheck Fairness Act is sponsored by Rep. Rosa DeLauro (D-CT) and Sen. Patty Murray (D-WA). The bill is bipartisan in the House of Representatives and co-sponsored by every Democrat in both the House and Senate. (A version of the bill was first introduced in 1997.) The Paycheck Fairness Act is also an important complement to the Lilly Ledbetter Fair Pay Act of 2009, which ensures that ongoing pay discrimination at work can be challenged regardless of when the discrimination began. That act was signed into law 10 years ago on January 29, 2009.
************************************************************* 
Fact Sheet: The Paycheck Fairness Act of 2019

"The Paycheck Fairness Act is essential to eradicating practices that have perpetuated the pay gap for far too long. In 2019, the idea that we still don't have equal pay for equal work is nothing short of outrageous.
AAUW urges the 116th Congress
 to take this important step towards pay equity with the swift passage of the b
— Kim Churches, CEO, American Association of University Women
*************************************************************
A Q&A with Lilly Ledbetter, Fierce Champion of Equal Pay
As one of the first women hired as a manager at the Goodyear Tire and Rubber Company in 1979, Lilly Ledbetter showed leadership potential from the start. When she found out after many years on the job that she was earning substantially less than her male colleagues, she challenged her employer in federal court.
*************************************************************
Simple Truth
The gender pay gap is the gap between what men and women are paid. Most commonly, it refers to the median annual pay of all women who work full time and year-round, compared to the pay of a similar cohort of men. Other estimates of the gender pay gap are based on weekly or hourly earnings, or are specific to a particular group of women.
**************************************************************
Get Paid What You're Worth
AAUW's renowned The Simple Truth about the Gender Pay Gap report finds women are still paid just 80 cents for every dollar paid to a man! We can change that with AAUW's multipronged economy security initiative: by changing laws, encouraging employers to improve workplace cultures and practices, and empowering women to negotiate to their financial futures by making our Work Smart program.
Learn more about Work Smart Online and join the Members Mobilize a Million Challenge.

Upcoming Branch Events and Programs 
********************************************************************************
The World Famous AAUW Midland Book Sale: April, 2020
Find great bargains at the AAUW Midland Branch Spring Used Book Sale in April, 2020 at the Midland Mall! (in the center court, between Younkers and Ruby Tuesday).The Used Book Sale hours are 9:00 a.m. to 9:00 p.m. on Friday and Saturday. Sunday hours are 10:00 a.m. to 4:00 p.m. Sunday is "bag day"!
Books are sorted into many categories including suspense, romance, westerns, fiction, nonfiction, cookbooks, collectibles and children's books.
• Most hardcover books are priced at $2
• Most paperbacks are $1 to $2
• Others are priced as marked
Donate your books! Sale proceeds from your generous book donations help to fund our Scholarships! Collection barrels are located at Family Fare, Kroger, Sanford Food Center and at the Midland Mall (at the two main entrances: Food Court entrance and the entrance next to Ruby Tuesday). Donation barrels will be out in March, 2020. Please, no encyclopedias or magazines.
Past Events and Programs
November Branch Program – With Special Guest, Mary Pollock, AAUW of MichiganThursday, November 8, 2018, Trinity Lutheran Church –  Mary handles AAUW of MI priority legislative issues at the Capitol including education that promotes gender fairness, equity and diversity, economic self-sufficiency for all women as well as equality, individual rights and social justice for a diverse society.

The AAUW Midland Branch and the League of Women Voters of the Midland Area jointly held a candidate forum for a seat on the Midland Public School Board on Tuesday, September 25, 2018 at 7:00 p.m. 

Candidates Forum Co-sponsored by Midland Area LWV and MCTV –

Monday, October 2018 – 

36th District Michigan State Senate – 

Districts 3 and 5 County Commissioners –

M

idland City Hall Council Chambers, 333 W. Ellsworth

98th District Michigan State House Candidates Forum –

Tuesday, October 16, 2018 –

MCTV Studio, Grace A. Dow Library – 

Co-sponsored by Midland Area LWV and MCTV
AAUW Candidate Forum – Women's Issues – Thursday, July 26, 2018, 7 p.m. – 9 p.m., Grace A Dow Memorial Library Auditorium, 1710 W. St. Andrews, Midland.
Equal Pay for Equal Work Rally in Lansing (April 10, 2018) – Click to see ABC 12 coverage and interviews.

---
AAUW National Highlights 
Congratulations to AAUW's 2018-19 Fellowship and Grants Awardees
The 2018–19 award year kicked off with the release of our updated online Fellowships and Grants directory in which you can find out more about the remarkable women and organizations from your area! To learn more about AAUW's fellowships and grants programs and past awardees, visit our fellowships and grants web page and read our Following the Fellows blog series. Read More.
AAUW Issues: Federal Judicial Nominations
AAUW's Public Policy Priorities supports "a fair, balanced, and independent judiciary" to ensure constitutional protection for the civil rights of all individuals. Federal courts up to and including the Supreme Court are often also the last, best hope for women who have experienced discrimination in education, employment, health care, and other aspects of their lives. Get the Facts
9 Things We Learned about Leadership at NCCWSL.
At the 2018 National Conference for College Women Student Leaders, nearly 800 students from around the world gathered to build community and sharpen their leadership skills. Here are some of our favorite moments that had us clapping, snapping, and thinking hard about the future. Read More.
Women's Student Debt Crisis in the United States
This report reveals that women also take on larger student loans than do men. And because of the gender pay gap, they have less disposable income with which to repay their loans after graduation, requiring more time to pay back their student debt than do men. As a result, women hold nearly two-thirds of the outstanding student debt in the United States — almost $900 billion as of mid-2018.  Read More.