Mission

: AAUW advances equity for women and girls through advocacy, education, philanthropy and research.
The AAUW Midland (MI) Branch, Inc. was established in 1934.  It is comprised of approximately 100 members from Midland and the surrounding area who come together to work on philanthropic projects as well as on topics of mutual interest. The branch holds General Meetings that are open to the public.
The AAUW Midland Branch, Inc. is on Facebook!  ____________________________________________________________________
Make Friends and Make a Difference with AAUW!
Consider joining the Midland Branch of AAUW!   If you join at a public event (such as one of our general meetings or at our Used Book Sale) you will receive 50 percent off our national dues.  Enjoy this nice incentive as you become part of an organization that supports women and provides many opportunities for personal growth and camaraderie.
---
Upcoming Branch Events and Programs 
(Click on the links below or on the corresponding date on the calendar on the right for details. If you would like further information about any of our programs, please write to aauwmidland@gmail.com
---
Find great bargains at the AAUW Midland Branch Fall Used Book Sale September 28, 29 and 30, 2018 at the Midland Mall! (in the center court, between Younkers and Ruby Tuesday)The Used Book Sale hours are 9:00 a.m. to 9:00 p.m. on Friday and Saturday. Sunday hours are 10:00 a.m. to 4:00 p.m. Sunday is "bag day"!Books are sorted into many categories including suspense, romance, westerns, fiction, nonfiction, cookbooks, collectibles and children's books.
• Most hardcover books are priced at $2
• Most paperbacks are $1 to $2
• Others are priced as markedDonate your books! Sale proceeds from your generous book donations help to fund our Scholarships! Collection barrels are located at Family Fare, Kroger, Sanford Food Center and at the Midland Mall (at the two main entrances: Food Court entrance and the entrance next to Ruby Tuesday). Donation barrels will be out on September 7, 2018. The last day to place books in the barrels is September 24, 2018. Please, no encyclopedias or magazines.*******************************************
Midland Public School Candidate Forum
The AAUW Midland Branch and the League of Women Voters of the Midland Area are jointly sponsoring a candidate forum for a seat on the Midland Public School Board on Tuesday, September 25 at 7:00 p.m. The Forum will be held in the Midland Public Schools Administration Building Board Room, 
600 E. Carpenter Street
. There are five candidates running for three open seats this year. The candidates are: Patrick Frazee (incumbent), Jon Lauderbach, Philip Rausch, Pam Singer (incumbent), and Kurt Yockey
*******************************************
Candidates Forum Co-sponsored by Midland Area LWV and MCTV
Monday, October 1, 7:00 pm
36th District Michigan State Senate

Districts 3 and 5 County Commissioners
Midland City Hall Council Chambers, 333 W. Ellsworth
*******************************************
98th District Michigan State House Candidates Forum
Tuesday, October 16, 7:00 pm
MCTV Studio, Grace A. Dow Library

Co-sponsored by Midland Area LWV and MCTV
*******************************************
Past Events and Programs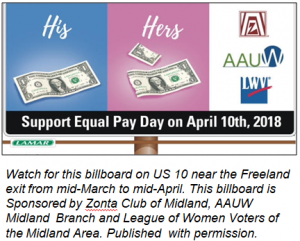 AAUW National Highlights 
Congratulations to AAUW's 2018-19 Fellowship and Grants Awardees
The 2018–19 award year kicked off with the release of our updated online Fellowships and Grants directory in which you can find out more about the remarkable women and organizations from your area! To learn more about AAUW's fellowships and grants programs and past awardees, visit our fellowships and grants web page and read our Following the Fellows blog series. Read More.
Supreme Court Review Call
Join us on July 26 we review several of the significant decisions reached by the Supreme Court of the United States during the October 2017 term. Ebonee Avery-Washington, LAF program manager, will host the conference call and Deborah J. Vagins, AAUW's senior vice president of public policy and research, will share her analysis of cases that impact our most fundamental rights. Register Today.
AAUW Issues: Federal Judicial Nominations
AAUW's Public Policy Priorities supports "a fair, balanced, and independent judiciary" to ensure constitutional protection for the civil rights of all individuals. Federal courts up to and including the Supreme Court are often also the last, best hope for women who have experienced discrimination in education, employment, health care, and other aspects of their lives. Get the Facts
9 Things We Learned about Leadership at NCCWSL.
At the 2018 National Conference for College Women Student Leaders, nearly 800 students from around the world gathered to build community and sharpen their leadership skills. Here are some of our favorite moments that had us clapping, snapping, and thinking hard about the future. Read More.
Women's Student Debt Crisis in the United States
This report reveals that women also take on larger student loans than do men. And because of the gender pay gap, they have less disposable income with which to repay their loans after graduation, requiring more time to pay back their student debt than do men. As a result, women hold nearly two-thirds of the outstanding student debt in the United States — almost $900 billion as of mid-2018.  Read More.
Still Separate, Still Unequal: The Role of Black Women and Girls in the Legacy of Brown v. Board of Education
More than sixty years after Brown v. Board of Education of Topeka, in which the Supreme Court ruled that state laws segregating schools were unconstitutional, schools are more segregated than they were in 1968 (approximately 75 percent of black students attend racially segregated schools), and black girls have suffered greatly as a result. Read More.
Know Your Rights: Title VII of the Civil Rights Act of 1964   The #CivilRightsAct recently turned 54, but gender and race discrimination in the workplace remain a serious problem. Title VII of the Civil Rights Act of 1964 is a federal law that prohibits employers from discriminating against employees on the basis of sex, race, color, national origin, and religion.  Read More.
Know Your Rights: The Equal Pay Act
Despite the passage of the EPA 55 years ago, women still do not take home wages equal to those of their male peers. If you're concerned that you may be a victim of sex-based pay discrimination, or if you just want to know more about how the EPA works, this resource covers the basic information to get you started. Read More
Broken Ladders: Barriers to Women's Representation in Non-Profit Leadership
Women's equity in the workplace has been a focus of the American Association of University Women (AAUW) since our founding in 1881. And while great strides have been made, women are still largely excluded from the most powerful corporate positions in our economy. For Instance, the Fortune 500 list of the largest American corporations recently reached a historic high representation of women CEOs at just 6.4 percent, or about 1 in 15. Women in these companies fill only about one in five senior management positions. AAUW's latest report on women in leadership at nonprofits is now available online. Read more and download the PDF.
State of the States: A Globally Competitive Workforce Starts with an Equitable Workplace
Every year, at the start of their respective legislative sessions, governors across the country
deliver their assessments of the condition of their states. They offer esteem for outstanding achievements among their citizens or groundbreaking triumphs within their legislature, each one assuring that their state is progressing in a positive direction. In addition to recounting the successes of the previous year, the addresses offer an opportunity for governors to speak on any legislative concerns and present a strategic plan to support statewide improvements in these policy areas. Read More .
46 Years of Title IX: Fight for Equity in Education Rages On
Women and girls still do not have equal educational experiences or opportunities. In 1972, AAUW was at the forefront of advocating for the passage of Title IX, and we continue to fight to realize the full intent of the law, to ensure all students receive an education free from sex discrimination at every level of education across the land. In a year where there have been rollbacks to the enforcement of the law, we need to push even harder to ensure it is protected and vigorously carried out. Read More.
Take the Pledge to Protect Title IX   June 23rd marks the 46th anniversary of Title IX. Help fight back against attacks on the Title IX by pledging to take part in AAUW's upcoming campaign to protect Title IX. Read More.
Find Your Title IX Coordinators with AAUW's Interactive Tool.
All K–12 schools and postsecondary institutions that receive federal funds must designate at least one employee to coordinate their efforts to comply with and carry out their responsibilities under Title IX. These Title IX coordinators ensure that all people affected by sex discrimination in schools — students, parents, and employees — are aware of their legal rights. Click to access AAUW's Title IX Coordinator Interactive Tool.
Know Your Rights: Workplace Sexual Harassment
Sexual harassment is a form of sex discrimination that violates Title VII of the Civil Rights Act of 1964. Title VII is a federal law that prohibits discrimination in employment on the basis of sex, race, color, national origin, and religion, and it applies to employers with 15 or more employees, including federal, state, and local governments. Even with Title VII's protections, many people across the country still face sexual harassment in their workplaces. Read more
Know Your Rights: Sexual Harassment and Sexual Assault under Title IX.  
Title IX of the Education Amendments of 1972 is a comprehensive federal law that prohibits sex discrimination in education. It covers women and men, girls and boys, and staff and students in any educational institution or program that receives federal funds. Local school districts, colleges and universities, for-profit schools, career and technical education agencies, libraries, and museums are all covered under Title IX. Read more.

The Gender Pay Gap by State
Every U.S. state has a gender pay gap, and some are wider than others. See how your state's gender pay gap stacks up. Share this information with state and federal legislators as a call to action for stronger laws and use it to educate folks in your community about the gender pay gap.  Click here for the Interactive Map.
It's Negotiable: Salary Skill Builder
The gender pay gap is real and has far-reaching consequences for women's economic security. Get the pay you deserve. AAUW's new online, interactive will help you articulate your value in your next negotiation.
AAUW Work Smart Salary Negotiation Trainings Now Available Across the U.S.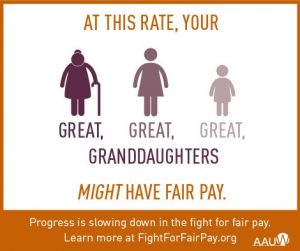 The AAUW Work Smart salary negotiation program that helps women hammer away at the gender wage gap will have greater reach this Equal Pay Day, due in large part to frustration with the status quo. Left on its own, the gender wage gap won't close for another 135 years, which is unacceptable and explains why numerous cities are collaborating with AAUW.
AAUW Work Smart has expanded beyond Boston, where it first launched just two years ago, to Washington, D.C.; Tempe, Arizona; and Long Beach, California. Read more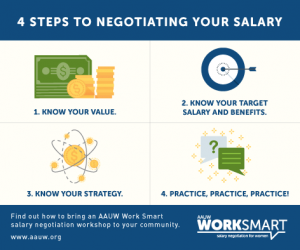 4 Tips to Negotiating for the Salary and Benefits You're Worth. At AAUW we're moving the needle on the gender pay gap through our innovative research, powerful advocacy, and salary negotiation programs for women across the country. You can sign up for a workshop near you, but in the meantime here are four tips for you. Ready to get paid what you're worth? Follow these four steps to successfully negotiate your salary and benefits package. Read more.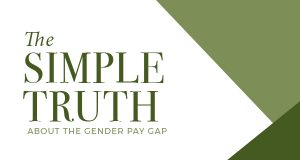 The Simple Truth about the Gender Pay Gap (Spring 2017)   You've probably heard that men are paid more than women are paid over their lifetimes. But what does that mean? Are women paid less because they choose lower-paying jobs? AAUW's The Simple Truth about the Gender Pay Gap succinctly addresses these issues by going beyond the widely reported 80 percent statistic. Read more.

Get The Simple Truth in Spanish! Now available en español, use this resource to educate decision makers and your community about the gender pay gap. Read more.
AAUW Member Benefits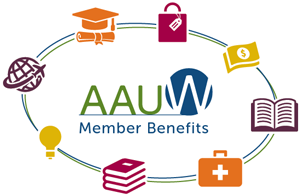 Membership with AAUW means you're part of a community dedicated to changing the climate for women and girls. As an AAUW member, you will not only have access to valuable resources but also get discounted pricing on some merchandise and services. It's one more way to express our gratitude for all your support to empower women and improve the lives of millions of women and families. With each purchase, AAUW receives a royalty that is used to support the work we do. Read more.
---
AAUW National – 2018 Calendar
July 26 –     Supreme Court Review Call, Time: 6–7 p.m., Location: Conference Call,
Cost:  Free. Register Today